Page 8-1 to Page 8-5
Started again with prepairing the edges, lightning holes and the powder coated HS-912 hinge bracket. Fabricated the HS-1008L+R left and right front spar attachment brackets, which are very critical regarding the hole spacing.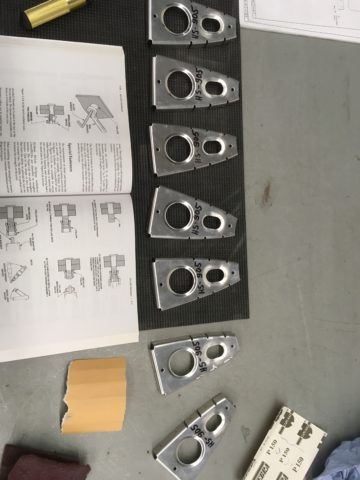 Began with the Horizontal Stabilizer (HS). Prepared some Stock (edge deburring, flange straightening) and created two sets of cradles for holding the both HS halfes alligned.
Nach dem Entgraten aller Teile des Höhenleitwerks folgt das Bohren der Löcher auf Maß. Jedes Bauteil erhält dadurch seine zugeordnete Position. Anschließend wird nach dem setzen der Bohrungen jedes Bauteil hierfür nummeriert!
25.02.17 – 02.03.17
5h